Our Impact
Post Card Quotes
On the last morning, children write a post card to themselves, which we post on or return via the group leader after around six weeks. The aim is to encourage and embed the learning.
Theory of Change: Shallowford Trust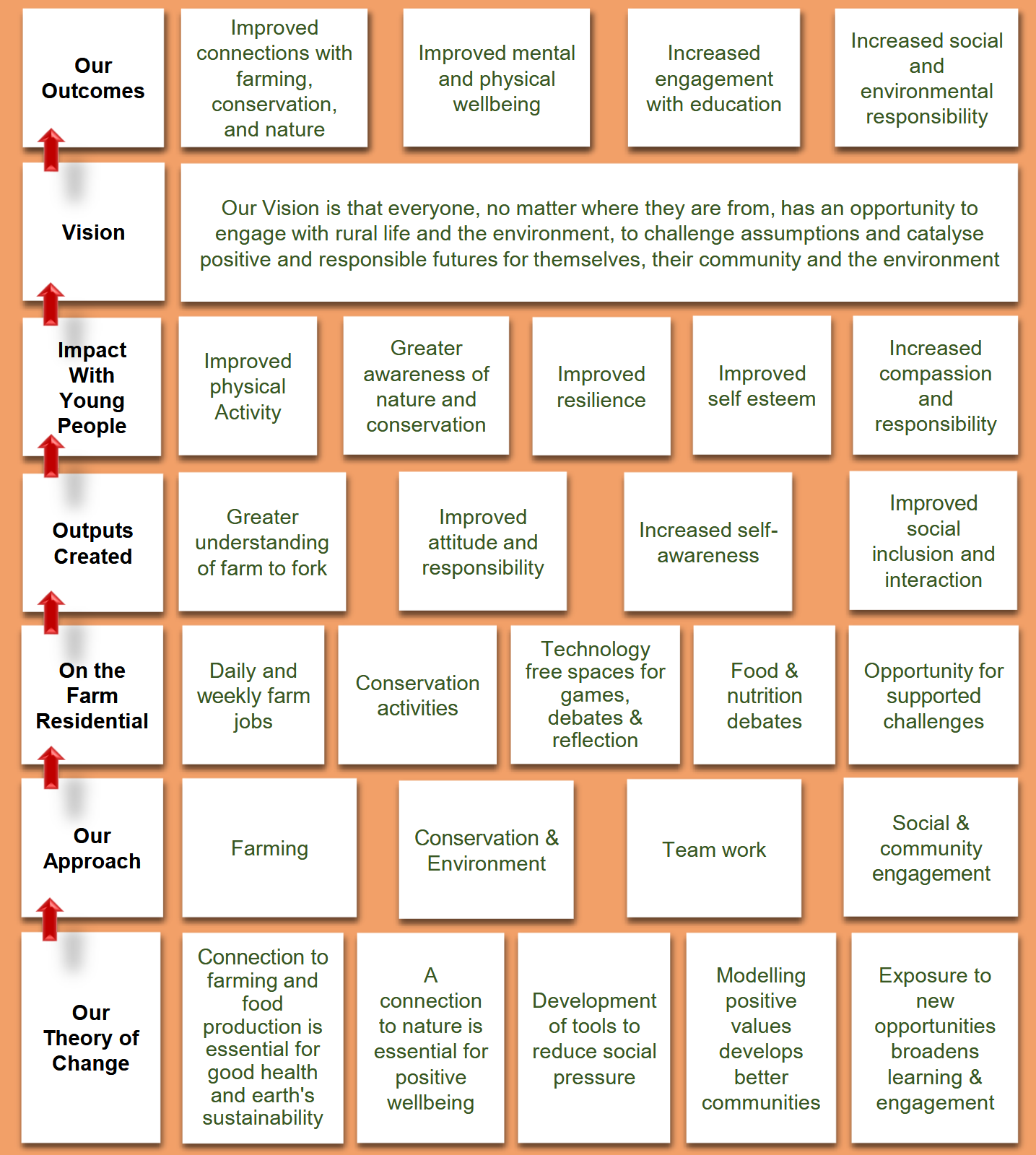 Quotes from Teachers and Leaders
Some of the best activities? The water filtering, because it had structure and questioning gave them a lot. All the animal feeding, as they became more independent so they could do it themselves. You gave them freedom, not controlling every step allowing them to make mistakes and being calm about it

Teacher
I have really enjoyed the week as I know the children have. Thank you so much to everyone involved for having us. You should be so proud of what you do. Xxx

Youth group leader
Shallowford Farm caters for all children in many different ways! The more academic children were challenged to develop resilience and take themselves out of their comfort zones. Quieter children, who often shy away in the classroom, were able to 'free' themselves: voices were heard for the first time and smiles were worn as children found themselves immersed in activities in which they thrived! This new-found confidence followed them back to school and contributions to class discussions increased as well as there enthusiasm for throwing themselves into new situations.

Teacher
Principles of the National Outdoor Learning Award
At Shallowford we use the NOLA principles to guide our approach.
Try something new
Within a home of stability and safety
Respect all things
Conservation & farm work that builds curiosity and empathy
Keeping everyone and everything safe
Youth work that builds resilience, respect and understanding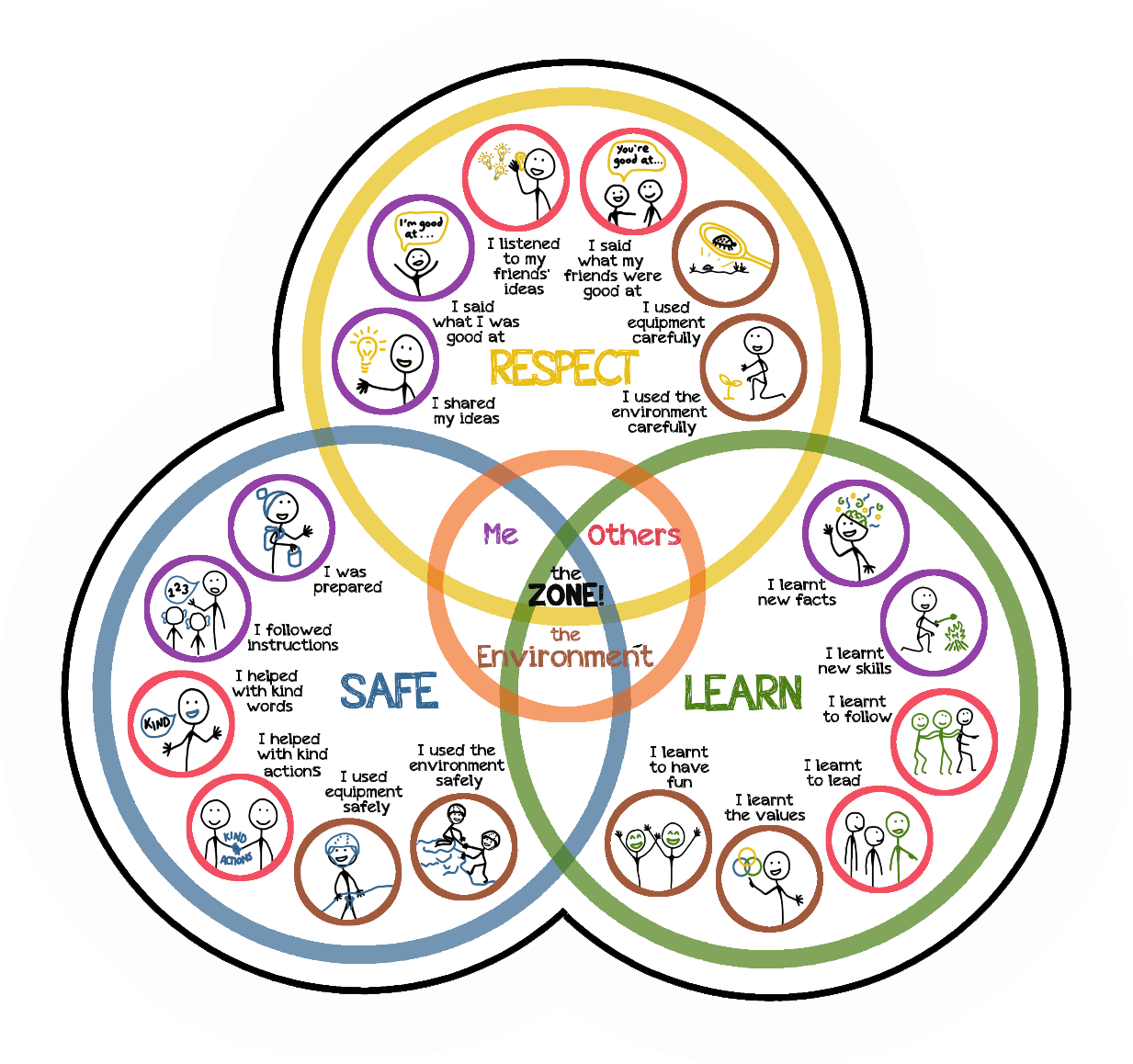 Impact at Personal Level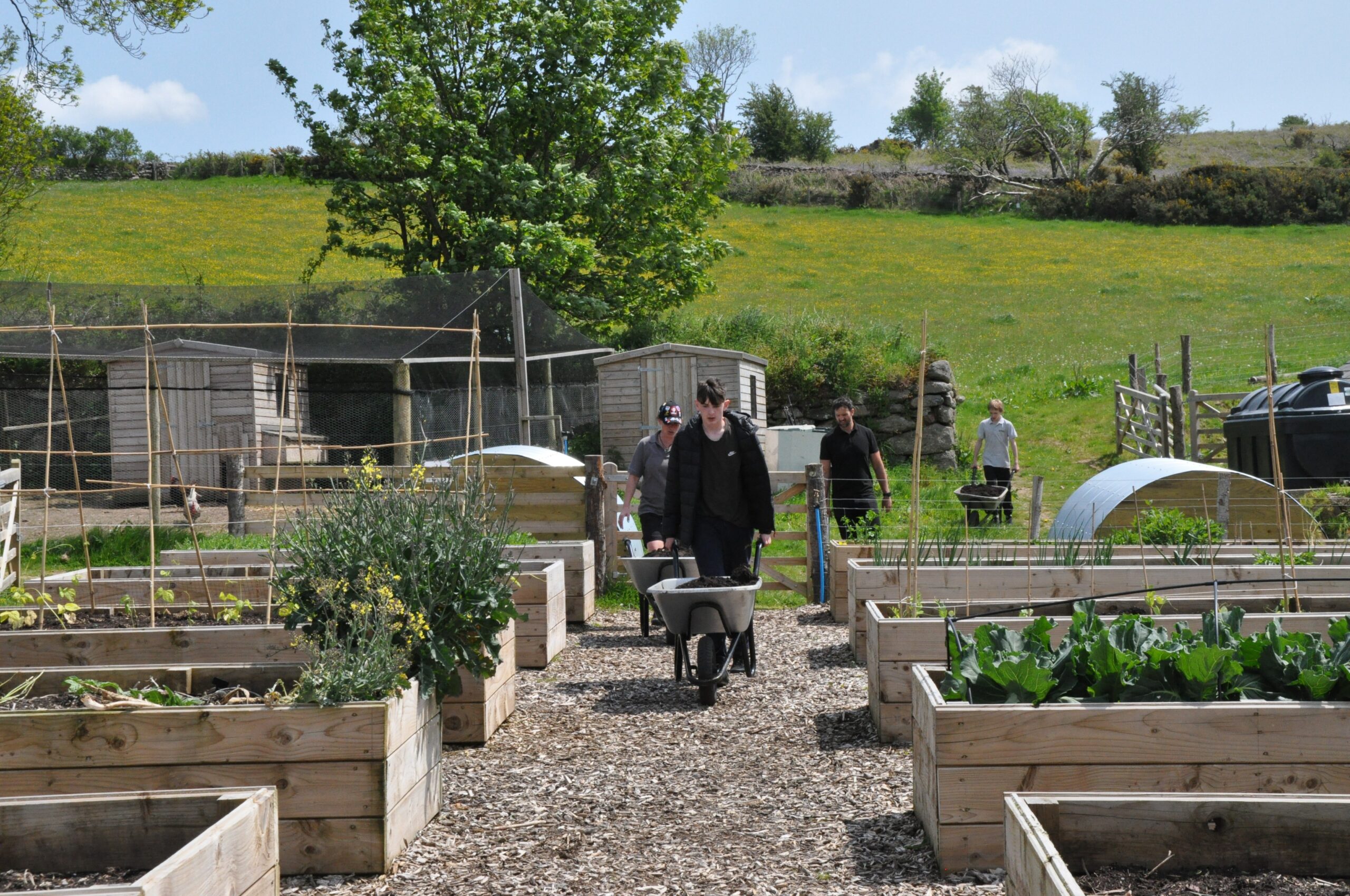 Social
Increasing self confidence
Improving social skills
Working as a team
Cooperation
Appreciating differences between farm life in a very rural area and city life.
Personal sense of achievement, celebrating success & building self-worth by completing challenges on Shallowford's premises, outside the farm & on neighbouring homesteads.
Living with each other, sharing rooms & facilities, taking part in meaningful conversations round the meal table & next to fire, playing board games. Discussing problems with others & personal issues as they arise.
Engaging with & participating in group discussions on given & topical subjects, improving at giving their point of view & questioning.
Social & emotional development through team tasks & challenges with the different animals & becoming more proficient each time tasks are repeated.
Enhancing problem solving skills; e.g. finding ways to get the geese back into their barns; how to feed & clean out the pigs and chickens efficiently.
Helping with the before & after care of the ewes and lambs. Taking responsibility for different tasks e.g. filling water buckets & refilling silage systematically.
Engaging with a different sort of community. Enjoying a place where children & adults from different backgrounds can experience a sense of community together, can see their place in & responsibility within the bigger world.
Being exposed to absence from housing estate environment & to rural open spaces. Experiencing a 'home' where children & adults feel secure, learn to share with the people they meet, thereby being drawn into a family environment & playing a real part in the world.
Building & developing relationships within & across generations.
Engaging with activities that extend & test the narrowness of personal experiences.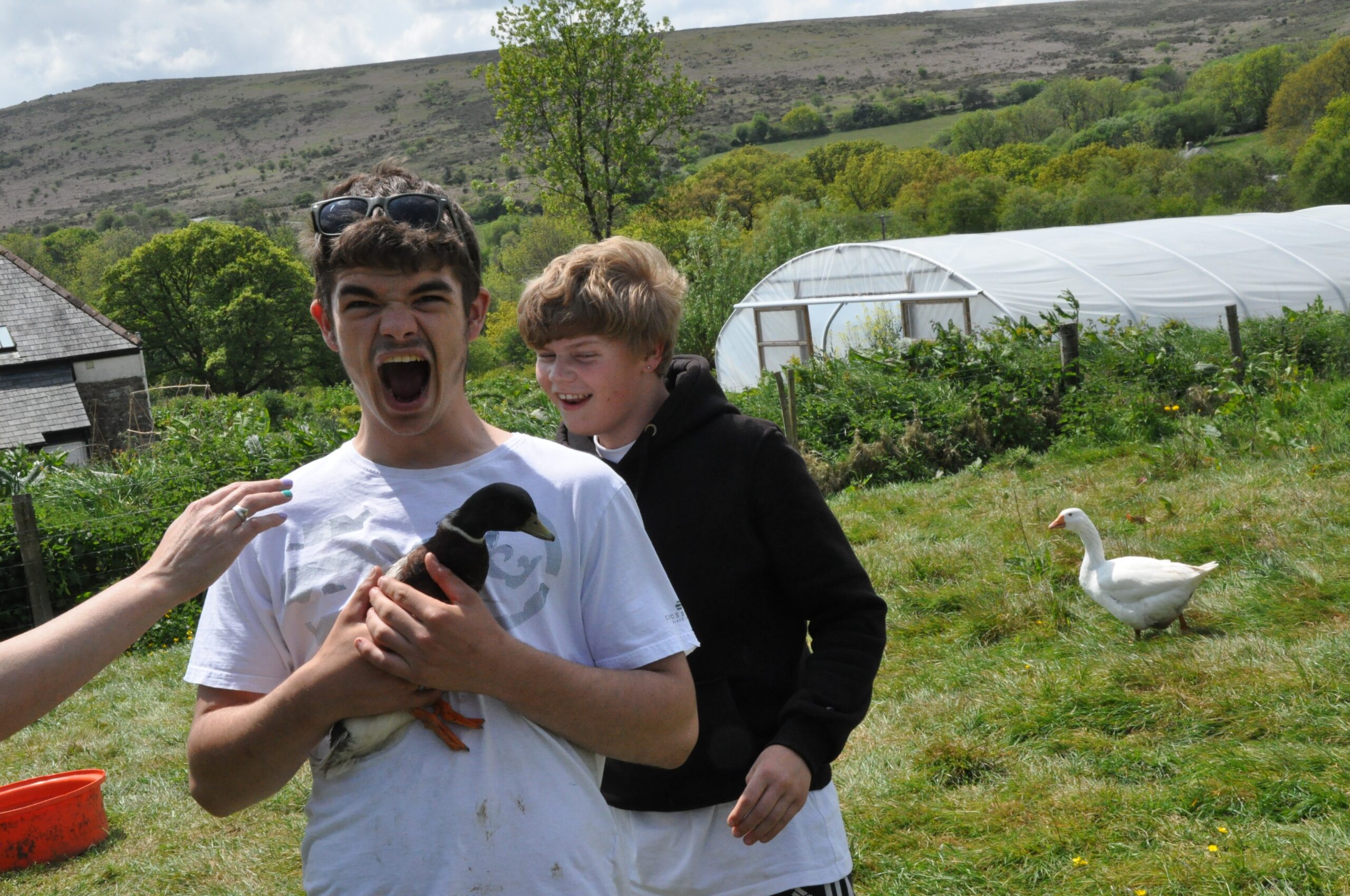 Educational
Raising academic achievement
Developing new skills and talents
Encouraging creativity
Discovering the needs of animals & how to care for them. Learning how to weigh out food & feed animals safely, clean out & look out for their well-being, especially new born lambs, chickens and piglets.
Foster sensory learning: noting the different textures of animal skin/fur/ feathers, mud wet/dry land.
Understanding & promoting farming, the wild environment, food production, enjoying healthy eating/living.
Exploring & discovering a much wider appreciation of life beyond the classroom. — Examining & classifying creatures in their environment in marsh land & by river dipping, including finding a newt under a stone, unearthing centipedes & millipedes & learning how to distinguish between them.
Designing a bug hotel in pairs & presenting it to the whole group.
Arts & crafts weaving, making an Easter garden, singing, storytelling.
Using practical, hands-on learning in the natural environment to meet requirements of national 'curriculum in Science, Geography, English, Maths, PE, Design Technology, PSHE, Art, History.
Drawing on farm experience to promote literacy, storytelling & wild play in a safe environment.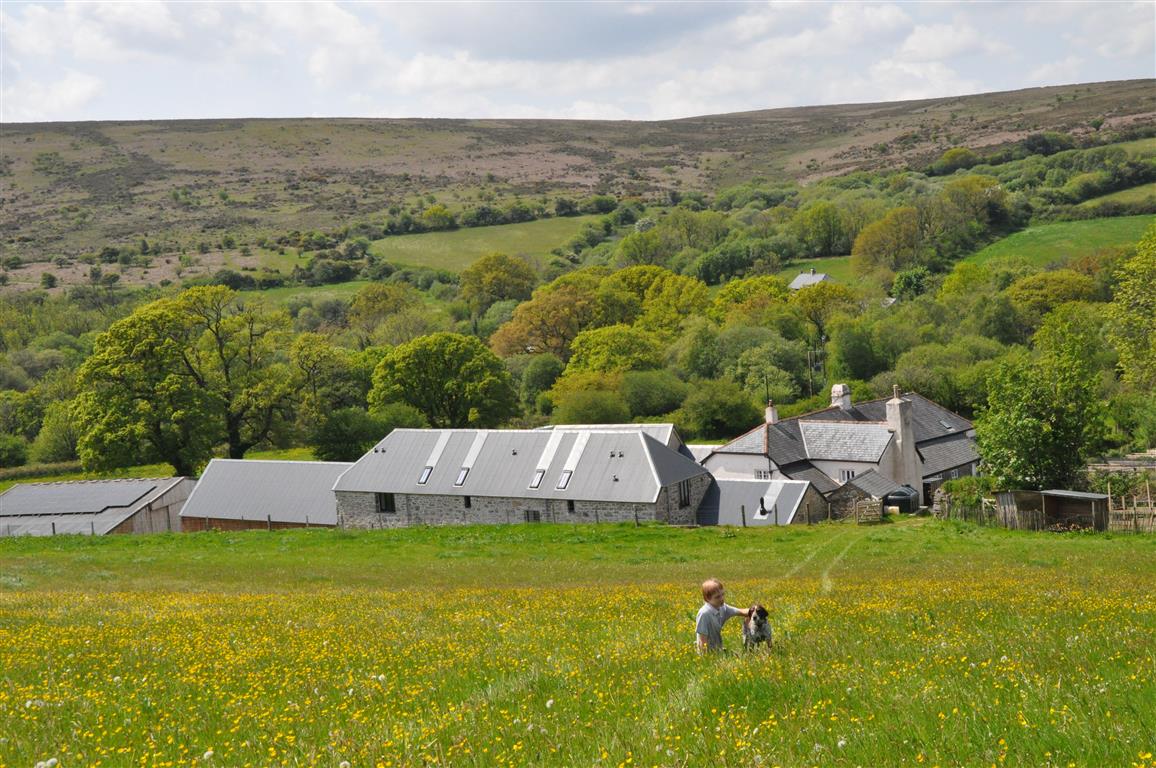 Develop awareness of our place in the world of nature
Developing a stronger connection to nature
Developing tools to deal with the Climate Crisis
Developing mental resilience
Understanding tangible reasons for engagement in education
The young people are directed to reflect that we live in a climate challenged world & have a responsibility to look after it.
Experience the natural world, discovering & looking at the wonders of creation.
Appreciate the needs of and developing a respect for all living things promoting a sense of wonder and curiosity about the natural environment.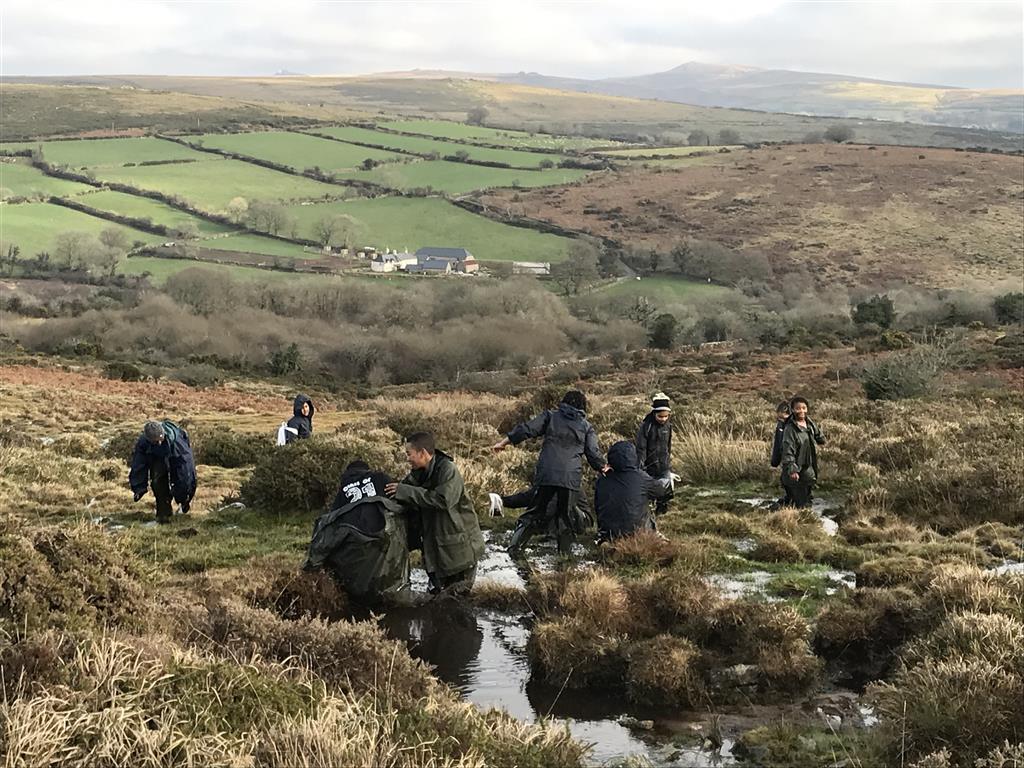 Emotional wellbeing – Impact health & fitness
increasing responsibility
improving resilience
Exercise! Long walks, good wholesome homemade food.
Knowing that individual issues would be taken seriously and resolved. Personal affirmation of self-worth
Learning about the value of food, how it is produced, why it should not be wasted.
Learning and understanding what a healthy diet is and how easy it is to enjoy less processed food that is good for health, mind and body.
Addressing the poverty of experience arising not just from economic and social deprivation, but also from the effects of increasing materialism.